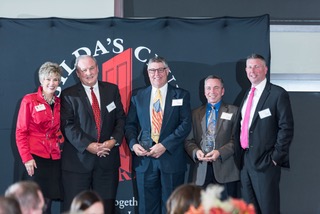 Gilda's Club Grand Rapids honored three organizations during its Night of Gratitude event.
White Feather Flights, Keller Williams Grand Rapids and Junior League of Grand Rapids were honored this month for their support of Gilda's Club of Grand Rapids through their "personal passion, corporate commitment, innovation, volunteerism and service."
"This night was just one small way to show our appreciation for all of the amazing things our community partners and members do," said Wendy Wigger, president, Gilda's Club of Grand Rapids. "We love being able to show our gratitude for those who have shown their support to Gilda's Club on a variety of levels."
The Community Partner Award is given to an organization that promotes the Gilda's Club mission in "creative ways" and is a "genuine" ambassador of the organization.
Read the entire article published on the Grand Rapids Business Journal.