Celebrate a life with flight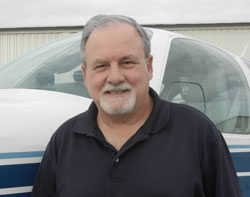 As a longtime pilot, I know first-hand the pleasure and sense of freedom that come from flying. The joy of flight is a wonderful gift; for many people, it embodies a spirit of adventure and elicits powerful experiences of excitement and awe.
White Feather Flights provides the opportunity to share this gift with families grieving the loss of someone they love.
This unique initiative helps families through their grief process by celebrating the lives of their loved ones through the use of private aircraft, under the guidance of a grief support group, with help from community members, and through a memorable, personal act—in this case, the release of a white feather into the sky.
During my involvement with White Feather Flights, I've witnessed how comfort and healing have been encouraged in dynamic ways by volunteer pilots, community partners, and grief support organizations. One participant, who was grieving the loss of his mother, commented: "The trip was better than I could have imagined. I felt my mother's presence in the clouds." Hundreds of testimonies just like this one are exactly why White Feather Flights has become such an important part of my life.
For a number of years, the process outlined in this document has been used with great success in two Michigan cities. With just a little planning and determination, this simple event can be replicated in any community with an airfield and willing support. The pages that follow will provide you with steps, resources and advice that can help this unique experience take flight in your community.
My vision is to see the healing benefits of White Feather Flights expand to communities throughout the United States and wherever grief exists. Please join me.
Sincerely,
Jim Hesseman
Lead Advocate

A special thank you to ...
White Feather Flights Interview...
A great way to find out more about White Feather Flights is to check out our interview by Fox 17 News in Grand Rapids, Michigan. Read the entire article on the Fox 17 News website.